As is often the case, Florence Pugh saved the best until last. Rounding off her awards season with a gown by Louis Vuitton for the 2020 Academy Awards, the frilled and flounced creation proved to be the perfect swansong for her sartorial adventures over this year's awards season.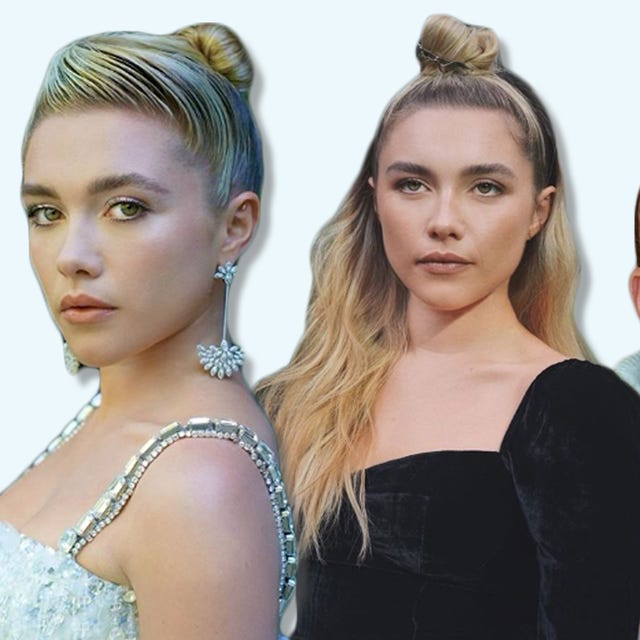 How to get Florence Pugh hairstyle
If you are a fan of the hairstyle that echoes the virtues of cool, fresh and strong from each of its strands then, Florence Pugh's hairstyle is what you are actually looking for. 2019 has indeed been the breakout year for 23 years old English actress who has captivated the entire world with her solitary charm, out-of-the-box screen presence, and talent, and most importantly, simplicity in everything she does. But, within Pugh's big year, another star was born and inevitably, that has to be her signature red carpet hairstyle comprising of an exquisite and detailed up-do.
With so many options of haircuts to choose from, it sometimes gets extremely excruciating for women to resort to an ideal length that can be both tied up or left open on the shoulders, as per the needs and occasions. Nevertheless, if you have medium length hair and are looking for some source of inspiration to fashion versatile looks with it, then Florence Pugh is your idol.
The length of the haircut
Florence Pugh's hair goes a little beyond her shoulder but, sometimes, the length is still shorter than that. Also, there is nothing extravagant about the haircut; from the looks of it, the hair seems to have been tailored with step cuts with a hint of layers in them and rightfully so. More so, the haircut is very neat and can be achieved by anyone of you because after all, as a style icon she has reinforced the verity that nothing beats uncomplicatedness and classic up-dos.
How to ask your hairstylist for the Florence Pugh hairstyle?
Accept it or not, all of you girls out there secretly wish for a hairstyle that is chic yet, easy to manage and will require the minimum efforts and the tufty topknot of Pugh, that looked like the most satisfying coiffure ever, suits this string of demands the best.
Even though your barber cannot style the hair for you, he can bring about the shape and size that would be indispensable for putting the look together. Your barber should bear in mind two imperative things while styling your hear; firstly, the shape of your head and face and secondly, add a unique touch that is relevant to your personality. If possible, show your stylist a picture of Florence Pugh so that he/she can implement the essentials that you were so long failing to describe.
As you must have seen, there is a tinge of softness in Pugh's hair which you shouldn't miss upon with harsh and definite cuts here and there. In order to make the hair look more natural, its texture shouldn't be compromised with under any circumstance whatsoever!
Styling the haircut
Coming to the final step of the Florence Pugh hairstyle, you will need the right products to compliment the haircut with. We highly recommend using our Hairbond Wonder Primer for multi benefits whilst, to add a glossy finish,  Hairbond Gripper Pomade would keep the hair slicked back without the grease.