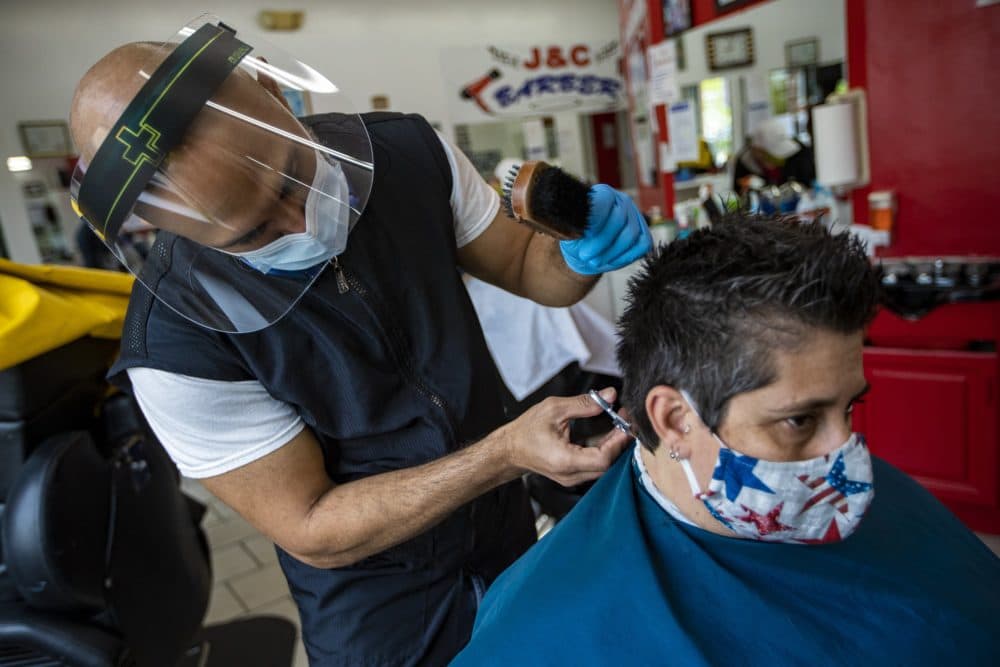 Following Boris Johnson's update at the beginning of the month outlining an overview of his roadmap to lifting lockdown, we now know hairdressers and barbers are likely to reopen on July 4th along with the hospitality sector in stage three of lockdown lifting.
But apart from rumors, speculation and what we have seen happening in Spain and Italy we have only been able to imagine what they will look like. However, some businesses just can't wait and have created a blueprint of how their salons could safely operate before July 4th.
The beauty industry as a whole employs over 600,000 people in the UK, and the hairdressing sector alone is the single largest contributor to the British beauty economy, valued at £6 billion. Throughout lockdown, the hairdressing industry has captured the interest of the nation like never before.
One of the first memes that went around was the joke 'we're about six weeks away from knowing the real colour of everybody's hair'. We have been captivated by the lockdown locks of politicians and news presenters and thrown our hands in the air when the news came that golf clubs and car showrooms would open before hairdressers.
It's been ten weeks since salons closed their doors on March 24; waiting lists were duly started, videos and pictures of DIY haircuts went viral..
There's also been a worrying emergence of backstreet hairdressers working in lockdown to satisfy the demand from clients, simply unable to cope without their regular cut and colour and sales of at-home root concealers shot through the roof.
While this July date is too far away for many (there's even an online petition with over 6,000 signatures urging the government to reopen salons along with the rest of retail on June 15) salons are now busy preparing themselves for a grand reopening – COVID style. According to the National Hair and Beauty Federation, 77 percent of members say they already feel prepared to reopen.
Currently, there are no clear government requirements for a salon to reopen, so these pictures serve as a guide to how hairdressers in the UK could operate – whether other salons adopt some or all of the measures in anticipation of the government's guidelines.
So what will a COVID-secure salon entail? Firstly the new rules need to be clearly communicated, some shops will be using a digital screen in their window to display important messaging for clients, including constant reminders about social distancing. At check-in, there can be a protective screen at the reception desk and markings on the floor to ensure strict social distancing. Ideas that dedicated stylists – wearing a mask – will welcome their own client in and they will remain with this one stylist throughout the salon visit to help limit risk, following a one-way system.
PPE will play a big part of salons reopening, so all staff should wear gloves as well as masks (changed constantly throughout the day) and clients should also be encouraged to also wear a protective mask throughout the appointment.
The government is still to issue its guidelines, but salons have already started acquiring masks and hand sanitizer gels for the UK and Ireland to support a safe reopening. Many other salons are planning on giving clients their own bag of disposable PPE on arrival (which will include towels and pre-sterilized hairbrushes).
Last week the Department for Business, Energy & Industry Strategy (BEIS), in which hairdressing sits within, set up a task force to ensure salons are ready before the suggested July 4th opening date. "The ideal situation is that we get a broad overview of what the government requires, and then we can work out the details," says Keith Conniford, the head of the Hair & Barber Council, who has been appointed as an advisor for the newly-formed task force. "What I don't want is the government to be setting ridiculous guidelines for an industry that they don't even understand," he adds. "There needs to be some input from our industry to make these decisions."
Many hairdressers in the UK have already planned how they'd reopen in a safe and hygienic way, but salons have always been an environment where high standards of hygiene and safety are adopted and followed, as well as caring for clients wellbeing is the number one priority.
The July 4 date for salons reopening is a cautious step by the British government, in comparison to other countries including America, Germany and Denmark who opened hairdressers in their first wave of lifting lockdown. Many of the safety measures seen globally chime with the new blueprints being formed so there is optimism that it will work.