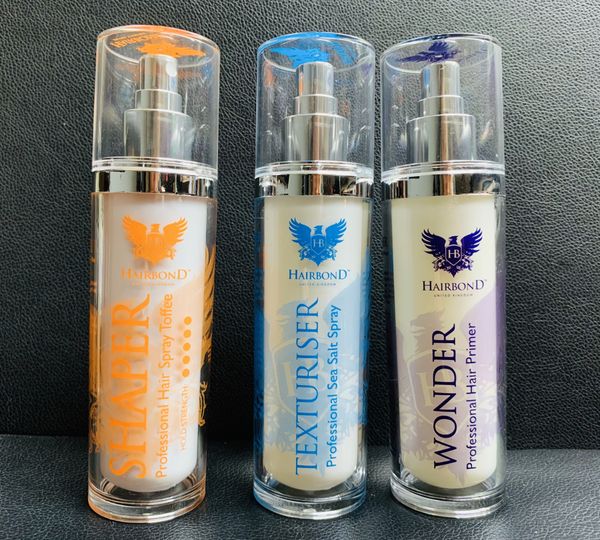 Pre-Stylers – How to use
A pre-styling product is a hair product which is more often than not first used with a hairdryer, and used before styling the hair as you might normally, with a wax, clay, or pomade etc
We call products like waxes, clays, pomades, as well as fibres, cements and putties, finishing products.
What do Pre-Styling products do?
A pre-styling product takes the hair from its natural state, usually just washed, to that of something more in line with how you're going to style it but in a way you wouldn't be able to achieve, when simply using a finishing product.
If you have fine or limp hair, you might use a pre-styler for thickening the hairs appearance and adding volume; or perhaps your hair is naturally frizzy and you want a product to tame and smooth the hair before you style it.
We like to think of it as laying down the foundations. Preparing the hair for styling as much as possible for the style you're about to build on.
Reasons to use Pre-Styling products
There are so many pre-stylers on the market promising to work wonders for our hair, but there are not many who can bottle up formulas that work and deliver with multi-benefits like Hairbond United Kingdom.
To Protect
Both the Hairbond Wonder Primer and Texturiser Sea Salt spray bottles will protect your hair from heat and UV damage caused by the sun and heated styling tools like curlers and straighteners. These products can also be used on all hair types.
To Smooth
The Hairbond Wonder Primer and Hair Repair Mask have been created to tame the hair by conditioning and smoothing the hair cuticle. Smoothing pre-stylers are perfect for guys with coarse and wiry hair. Want some of the benefits of a sea salt spray but without the dry, matted, textured finish, you need to try using the Wonder Primer for softe and smoother results.
Pre-Styling For Volume
Voluminous pre-stylers are great for creating big hair. Volume pre-stylers can be used to add structure to fine hair, thickening the appearance as well as tighten and define curly hair.
If your customer wants a strong, matte, textured high volume quiff, then there's nothing better than pre-styling with the Texturiser Sea Salt Spray! This will add strength to the style and guarentee an all day hold.
Upselling Pre-Styling products
Teaching customers to create and structure a daily hairstyling routine using both pre-stylers and finishing products is one of the best things you can do to improve retail within your barbering business.
Not only does using two compatible products help achieve stronger hairstyling results, but it also means you can make more money for your business by instantly selling double the amount of products to each client.
Help! Which Pre-styler should I use?
It all depends on the clients hair type, the look they're going for and what product qualities suit their needs the most.
If it's a soft smooth approach look no further than the Wonder Primer or if it's texture, volume, hold then show off the Texturiser Sea Salt Spray.
Both of these products have a £21 SRP but can be picked up by the box in fantastic trade deals.
Exclusive to FinestBarbers.com